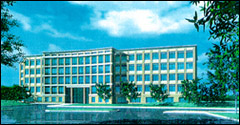 MMR offers a range of mortgage programs with a variety of terms and conditions to meet borrower needs. The company carefully reviews the owner's investment strategies, the quality of equity and management expertise in order to meet the long term goals of ownership.
With correspondent offices to serve borrowers nationwide, we focus on relationships rather than regions.
Loan Administration
MMR conducts a full range of mortgage servicing on loan pools. These include:
Master Servicing - the process of managing payments related to CMBS portfolios

Loan Management - the on-going monitoring of mortgages

Special Servicing - the process of remedying delinquencies or defaults
MMR's efforts to streamline the lending process also apply to loan servicing. For each loan, one loan analyst typically handles all borrower relations throughout the life of a specific loan. Working with MMR's loan analyst is the same as working with the ultimate investor.
MMR's Servicing Portfolio
By Property Type

Because its future is tied to its borrowers, MMR wants each one to succeed. The company works with its clients as loan servicer and portfolio investor to address the important issues that arise during the life of each loan. Call the Market Innovator TODAY. Unlock the power of today's commercial mortgage market and take control of your economic future.